Tax
Bandits
W-2 Forms
When it comes time to send Form W-2 to your employees, don't waste time on some fly-by-night web app. With TaxBandits, you have a complete package that lets you generate and file W-2 online, which can then be distributed to your payees.
Form 990
When it comes to maintaining your tax exempt status and filing 990 Forms for your nonprofit organization, TaxBandits is the number one solution offering Form 990-N (e-Postcard), Form 990-EZ, Form 990, and Form 990-PF. TaxBandits will help you quickly e-file the 990 Forms you need and transmit it directly to the IRS.
Form 941
Form 941 known as the Employer's Quarterly Federal Tax Return, Form 941 is used to report required withholdings by employers from their employees' salaries. As a quarterly form, it must be filed four times per year. And with TaxBandits, where you can now file Form 941 online, the more you file, the more you save!
With TaxBandits, you can easily e-file the annual Forms such as Form 940, 943, 944 & 945.
ACA Forms
The Affordable Care Act mandates businesses to file Form 1095-C and 1095-B to the IRS and the relevant state. TaxBandits lets you e-file form 1095-B and 1095-C for both Federal and state. With TaxBadnits, you can streamline your ACA tax filing and stay compliant with the IRS.
Designed for Businesses
At TaxBandits, taxpayers are provided the benefit of uncomplicated state and federal filing information regarding Forms 1099 and W2 Form requirements. Best of all, business can take advantage of the easy-to-use bulk upload option to generate forms for multiple recipients and employees in just a few clicks. TaxBandits provides an irs authorized secure system, allowing filers to complete the process at their leisure.
What Makes TaxBandits So Good?
We make things easier by giving you the option to send information returns via e-mail to recipients / employees, print Forms directly from your online account, or have forms automatically postal mailed by TaxBandits upon completion. Like our other tax products, TaxBandits is written in plain English. There is no confusing tax jargon, just a few straightforward questions. The process is very self-explanatory and is easy to navigate through. The entire filing process takes less than 10 minutes, but if you have any questions along the way you can contact our dedicated support team.
Our customers can expect a dedicated support team full of real, small town people from Rock Hill, SC.
If you need to contact us, call us at 704.684.4751 or by email atSupport@TaxBandits.com
Start filing now at TaxBandits! Get Started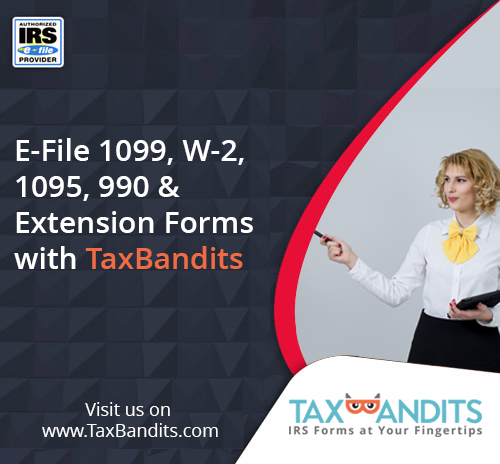 ---
TaxBandits supports the following forms.
1099 Forms (MISC, INT, DIV, R), and even 1099 corrections
IRS Forms W-2 and Corrections
ACA Forms 1095-B and 1095-C
Extension Form 8809
---
TaxBandits.com has been custom designed with features that make filing your Information return quick and easy, including
Print center and postal delivery
Federal and State filings
1099 & W-2 corrections
e-Sign Form W-9 and so much more!